Cost: $15
Weary Arts Group
Directed By Cal Weary
Written by the Bard
Adapted By Andrew Bundy
Family Friendliness: Nope
Hometown: York, PA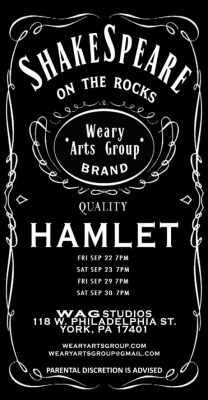 Join the award-winning Weary Arts Group (WAG) crew for a wild, romping, drunken mess of a time. The magically timeless works of Shakespeare delivered with a twist. This "crowd interactive" showing is not for the faint of heart or the prude of soul. Show up to drink, scream, and party!
Twelfth Night
Viola - Shaina Lucas
Orsino - Dante Strange
Olivia - Tricia Hulme
Sebastian - Jack Hulme
Antonio - Harry
Feste - Felicia Williams
Sir Andrew - Dan Griffin
Malvolio - Quinton Laughman


Check out Romeo & Juliet on Friday and Hamlet on Saturday!